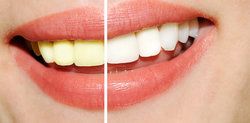 Treating tooth discoloration is most successful when the type of staining is understood. Some discoloration is easy to remove, while other types of discoloration may be so deep as to require more involved treatment. Determining the type of treatment needed is dependent on determining the type of staining that has occurred. Troy cosmetic dentist Keith Kelly offers a number of treatment options, which, regardless of the type of discoloration you suffer from, will be sure to give you a bright, white smile.
Understanding Tooth Discoloration
Tooth discoloration is a part of the aging process. Staining develops over time and can be worsened by the foods and beverages we drink, like coffee, red wine, and sodas. Depending on the degree of staining, some teeth can be brightened with professional whitening, while others may require alternative treatments. As previously stated, treating tooth discoloration begins with determining the type of discoloration. Tooth discoloration is basically broken down into two categories: extrinsic stains and intrinsic stains.
Extrinsic Stains: Extrinsic stains are superficial surface stains. Extrinsic staining is the most common type of tooth discoloration. It is characterized by an overall yellowing or discoloration of the teeth, most notably along the gum line. Extrinsic discoloration is caused by foods and drinks, as well as cigarette smoking.
Intrinsic Stains: Intrinsic stains are rooted deep within the inner dentin of the teeth. Intrinsic discoloration tends to be more localized than extrinsic stains. This leads to spots of discoloration within an individual tooth. Intrinsic staining is generally caused by medication, enamel erosion, disease, or trauma. Because intrinsic stains are located deep within the layers of the teeth, they often require treatment that masks the stains rather than removing them.
Treating Extrinsic Stains
Most extrinsic, surface stains respond well to whitening treatments. Professional teeth whitening treatments provide the best results. Dr. Kelly offers Zoom!® teeth whitening treatments to lift surface stains by up to eight shades in as little as one 30-minute treatment. The Zoom!® whitening system produces superior results thanks to a combination of a powerful whitening gel and a special light. Once the whitening gel is placed on the teeth, a special light is applied. This light amplifies the whitening gel's power, breaking up stains more efficiently than any whitening gel alone.
Treating Intrinsic Stains
Deep, intrinsic stains don't always respond well to teeth whitening. In some cases, teeth whitening can make intrinsic stains look more noticeable. Fortunately, there are treatments that can improve the appearance of deeply stained teeth. Dental restorations are useful for concealing stains and restoring the teeth to the exact desired shade. Dental bonding and porcelain veneers are the most commonly used restorations to improve tooth shade.
Dental Bonding: Dental bonding is a restorative procedure that uses tooth-colored composite resin to mask flaws and imperfections like deep stains. Dental bonding is a quick and simple procedure, generally completed in a single dental visit. With dental bonding, custom shaded tooth-colored resin is applied and shaped to the teeth. Once the resin is placed, an ultraviolet light is applied to cure, or harden, the resin and complete treatment.
Porcelain Veneers: Porcelain veneers are yet another option for restoring deeply stained teeth to a bright white smile. Porcelain veneers are custom-made restorations that can not only improve the color of the teeth but can also be used to improve the shape and size. Porcelain veneers are thin, tooth-shaped shells that fit over the front surface of the teeth. Treatment begins with removing a thin layer of the tooth's enamel (in order to make room for the veneer) followed by taking dental impressions. The impressions are used to custom-craft each veneer. Once the veneers are ready, they are checked for proper fit and then cemented to the surface of the teeth to create a flawless, white smile.
Which Treatment Is Right for You?
To discuss which treatment is best to restore your teeth to their pearly white best, we welcome you to schedule a consultation with Dr. Kelly.